On April 18-19, 2018, the well-known and authoritative hierarch of the Greek Orthodox Church His Eminence Metropolitan Nikolaos (Hatzinikolaou) of Mesogaia and Lavreotiki will be visiting Ukraine.
His Eminence is a scientist-astrophysicist, doctor and bioengineer who received his education at Harvard University and the Massachusetts Institute of Technology (United States of America). The hierarch prior to his ordination to the priesthood worked as a research fellow and researcher at the New England Cardiovascular Laboratory at Deaconess Hospital, and was an employee of the National Aeronautics and Space Administration of the United States (NASA), and at the Arthur Dehon Little company where he was engaged in developing space medicine technologies using the newest innovations of mechanics and advanced technologies for the benefit of the human body. The turning point of the Hierarch's life and the apotheosis of his spiritual quest was his journey to Mount Athos, where he was later to become a monk and received the Sacrament of Holy Orders.
On Wednesday, April 18, 2018, a presentation of the Ukrainian translation of Metropolitan Nikolaos' book "Mount Athos: The Highest Place on Earth" will take place in building No. 45 at the Kyiv-Pechersk Lavra at 6 pm. The book was translated by Andriy Us, the Director of the Charity Foundation "Orthodox Heritage of Ukraine on Holy Mount Athos".
During the presentation, His Eminence will talk about his personal experiences and impressions whilst visiting Holy Mount Athos during the time when he was studying at the University of Thessaloniki, about his personal acquaintance and discussions with the prominent Elders of Mount Athos: Venerable Paisios of the Holy Mount, Elders Ephraim of Katounakia and Gerasimos the Mikrayannanite, and about the significance of Holy Mount Athos in the life of every Orthodox Christian.
The book written by the Venerable Porphyrios (Bairaktaris) the Kapsokalivite "Christ: Is All!" will also be presented. Metropolitan Nikolaos was personally acquainted with Elder Porphyrios the Kapsokalivite.
The event may be attended by all those who are interested. After the presentation, a spiritual discussion will be held during which those present will be able to ask Metropolitan Nikolaos questions.
On Thursday, April 19, at 7:00 pm, His Eminence Metropolitan Nikolaos will meet with young people at the Holy Trinity Monastery of Saint Jonah in Kyiv.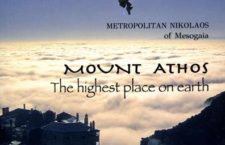 Переглядів: 7