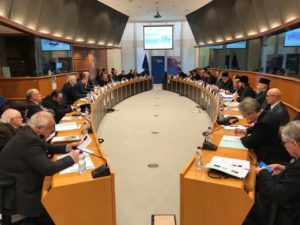 On March 6, 2018, with the blessing of His Beatitude Metropolitan Onufriy of Kyiv and All Ukraine, the Head of the UOC Representation to International European Organisations (UOC IEO) His Grace Bishop Victor (Kotsaba) of Baryshivka took part in the seminar "The Importance for Europe to Protect Christian Cultural Heritage" held on the premises of the European Parliament in Brussels.
The organisers of the event were the European People's Party (EPP) and the Committee of the Representatives of the Orthodox Churches to the European Union (CROCEU).
Among those who addressed the participants of the assembly were: His Eminence Metropolitan Athenogoras (Peckstadt) of Belgium, Exarch of the Netherlands and Luxembourg (Patriarchate of Constantinople), Bishop Kyrillos Katerelos of Abydos (Patriarchate of Constantinople), Very Reverend Archimandrite Aimilianos (Bogiannou) (Patriarchate of Constantinople), Hegumen Philip (Ryabykh) (Moscow Patriarchate), Protopresbyter Dr. Georgios Lekkas (Greek Orthodox Church), and Members of the European Parliament: Gyorgy Holvenyi, Jan Olbricht, Cristian Dan Preda, Svetoslav Hristov Malinov and Marijana Petir.
Bishop Victor of Baryshivka presented a speech on the theme 'The Spiritual Dimensions of Christian heritage via Education'. In particular, the Bishop noted that the Ukrainian Orthodox Church had recently marked the 100th Anniversary of persecution by the godless Soviet government for its faith in Christ. In connection with this, according to the Bishop, the experience of persecution suffered by the Martyr-Church as well as by the other religions – may, in fact, be quite useful in understanding the problems of contemporary Europe and in developing solutions to these problems.
As part of the framework of the event, the UOC representative met with officials and Members of the European Parliament who had shown an interest in recent developments in Ukraine. The Bishop spoke about the peacekeeping and social service of the Ukrainian Orthodox Church and described the current state of church-state relations.
Переглядів: 9