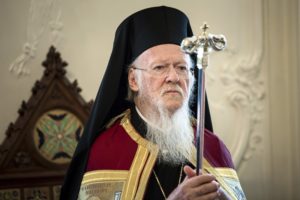 On February 23, 2018, His All-Holiness Bartholomew I the Patriarch of Constantinople, sent a letter to Archbishop Filaret of Lviv and Halych, expressing condolences on the arson of the church in the Lviv eparchy. Reports the UOC Department of Information and Education with reference to the eparchial website.
"It was with deep sorrow in our hearts, that we learned about the arson of one of the churches in the Lviv eparchy and hasten to convey our heartfelt compassion, as well as our prayers for stability and peace in Your eparchy," the letter reads.
The Ecumenical Patriarch stressed that such acts of violence clearly demonstrate how dangerous and destructive are political ideals that are devoid of the Christian spirit.
"Such acts of violence clearly demonstrate how destructive and dangerous political ideals can become if they are deprived of New Testament salvation; which negates godless ideals, and emphasizes that there "is neither Jew nor Greek, there is neither bond nor free, there is neither male nor female: for ye are all one in Christ Jesus"  (Galatians 3:28)," – stated the Primate of the Orthodox Church of Constantinople.
"When a crime is committed in the name of religion, it is definitely a crime against religion. Any demonstration of violence in places of worship increases tension and contributes to the formation of discord among peoples ", – declared the Ecumenical Patriarch.
Earlier it was reported that the hierarchs from the Serbian, Greek, Montenegrin, Czech, Polish Orthodox Churches, and the Prior of the Mount Athos Xenophontos Monastery expressed their support for the parishioners of the Lviv Eparchy of the UOC.
Переглядів: 0