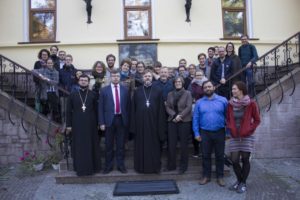 On September 27, 2017, with the blessing of His Eminence Metropolitan Antoniy of Boryspil and Brovary, Rector of the Kyiv Theological Academy and Seminary (KDAiS), lecturers of the Academy met with a group of scholarship students from the German Cusanuswerk Foundation and who are pursuing graduate studies in various universities throughout Germany and are currently touring around Ukraine. As part of their trip, the students visited Lviv, Kharkiv and also Kyiv, where they went to Kyiv-Pechersk Lavra, explored the Lavra Caves and joined the festive church services in honour of the Exaltation of the Holy Cross.
The meeting with the lecturers of the Academy – namely with the Pro Rector of Scientific Work Prof. V. V. Bureha, the Deputy Chairman of the Department for External Church Relations (DECR UOC) Archpriest Professor Mykolay Danylevych and KDAiS lecturer and UOC DECR co-worker Archpriest Vitaliy Polishchuk – became an important event of their visit to Kyiv. DECR co-worker and KDAiS docent Dr. S. M. Bortnyk facilitated the organisation of events and acted as interpreter throughout the meeting.
In their questions, the students focused on the position of the Ukrainian Orthodox Church (UOC) during the current difficult political situation in the country, on its cooperation with Ukrainian society at large and its relations with the Ukrainian Government. The guests were also interested in the system of theological education in the UOC and a number of other issues. The meeting was held in a constructive atmosphere and the guests expressed their wish to visit Kyiv-Pechersk Lavra and Ukrainian Orthodox Church institutions in the future.
Переглядів: 7