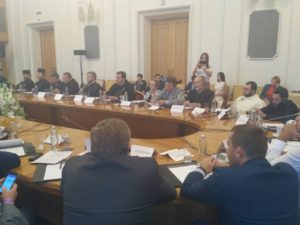 18-19 September, 2017, the Ministry of Foreign Affairs of Ukraine hosted a Round Table on 'The Role of Religion in European Integration'. Discussions centred around the prospects of further development of relations with the European Union and the participation of the Ukrainian confessions in this process. Taking part in the International meeting were members of the European Parliament from the European People's Party (EPP) and members of the All-Ukrainian Council of Churches and Religious Organisations (AUCCRO).
With the blessing of His Beatitude Metropolitan Onufriy, representing the Ukrainian Orthodox Church (UOC) at the Round Table discussions were Deputy Chairman of the Department for External Church Relations (DECR UOC) Archpriest Mykolay Danylevych and Department co-worker Archpriest Vitaliy Polishchuk.
During the course of the meeting, the participants also discussed the problem of Internally Displaced Persons (IDPs) who were forced to flee their native Ukraine as a result of armed conflict in the eastern part of the country. Also raised was the topic of Ukrainian immigrants who now find themselves widely dispersed throughout Western Europe and who are in dire need of spiritual support. Not infrequently, religious communities act as intermediaries for theological education and the preservation of cultural identity for Ukrainian migrant workers.
Representatives of the Ukrainian religious communities emphasized the inappropriateness of the imposition by certain European politicians,
of moral and ethical values that are not traditional for Ukrainian society.
Participating in the work of the Conference was cleric Archpriest Theodore Heikki Huttunen of the Finnish Orthodox Church (Constantinople Patriarchate), who is also the General Secretary of the Conference of European Churches (CEC) which the Archpriest was, in fact, representing at this event.
During his stay in Kyiv, Archpriest Theodore Heikki Huttunen also met with His Beatitude Metropolitan Onufriy of Kyiv and All Ukraine, and also with Head of the UOC Representation to International European Organisations (UOC IEO), His Grace Bishop Victor of Baryshivka.
Переглядів: 2