On 13 September 2017, with the blessing of His Beatitude Metropolitan Onufriy of Kyiv and All Ukraine, Head of the UOC Representation to the International European Organisations (UOC IEO) His Grace Bishop Victor (Kotsaba) of Baryshivka met with the Primate of the Polish Orthodox Church, His Beatitude Metropolitan Sawa (Hrycuniak) of Warsaw and All Poland, reports the UOC Department of Information and Education.
First and foremost, Vladyka Victor wanted to convey prayerful greetings and gratitude from His Beatitude Metropolitan Onufriy to the Primate of the Polish Church for His perpetual prayers for peace in Ukraine.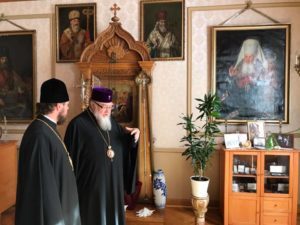 During the meeting, the current state of Orthodoxy in Poland, history of relations between the Polish Orthodox Church and the State as well as other denominations were all considered. Also discussed was the current situation with regards to the rights of Orthodox believers in Ukraine.
His Beatitude Sawa particularly stressed his continued support for the Ukrainian Orthodox Church (UOC) and emphasized the concern that the whole Orthodox world is feeling with regards to the activities of the so-called UOC-KP and the attempts at the legislative level to introduce Draft bills which are aimed at discriminating and unlawfully oppressing the Ukrainian Orthodox Church – which is an integral part of Ecumenical Orthodoxy.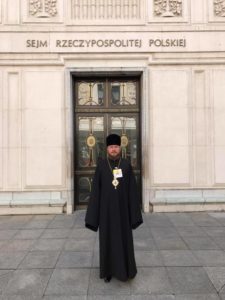 The Polish Orthodox Church Primate commented on the impossibility of an artificially accelerated establishment of a United Local Orthodox Church in Ukraine that is currently being instigated by statesmen, and stressed the importance of the European principle of the separation of the State from the Church and the inherent right of religious organisations to regulate via their statutes the rights and obligations in accordance with the thousand year old canons of Orthodoxy.
During the meeting, His Beatitude Sawa declared that he, as Head of a Local Church, would not recognise the declaration of autocephaly in Ukraine if this was not done in the spirit of peace and harmony, and if it was done without the consent of all the Primates of all the Local Orthodox Churches.
That same day, Head of the UOC Representation to the International European Organisations visited the Cathedral of St. Mary Magdalene and met with chaplains from the Polish Orthodox Military Ordinariate. By prior arrangement, Bishop Victor held a series of meetings with deputies, human rights activists and representatives of International organisations in the Sejm of the Republic of Poland.
Included in Bishop Victor's meetings agenda in the Polish capital is his planned participation and address at the OSCE Human Dimension Implementation Meeting, which is currently underway in Warsaw.
Переглядів: 2