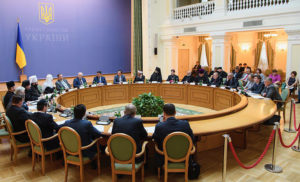 On 4th of July 2017 members of the All-Ukrainian Council of Churches and Religious Organisations (AUCCRO) met with the Prime Minister of Ukraine V.B. Groysman. With the blessing of His Beatitude Metropolitan Onufriy of Kyiv and All Ukraine, the Vicar of the Kyiv Metropolia Bishop Varsonofiy of Borodyanka and Deputy Chairman of the Department for External Church Relations of the Ukrainian Orthodox Church (DECR UOC) Archpriest Mykolay Danylevych took part in the meeting.
During the meeting, a whole array of issues concerning the field of Church-State relations was discussed. In particular, Board members appealed that adequate action be taken and expressed their suggestions for strengthening family and moral values. Representatives of the Ukrainian religious organisations unanimously reaffirmed their negative attitude toward the possibility of the adoption of the Istanbul Convention, the text of which includes newly introduced to the Ukrainian legal field, such terms as "gender", "gender identity", "gender sensitivity", "sexual orientation" which go far beyond the accepted norms  of the understanding of the concept of "gender" and distort the understanding of gender equality as being the equality of rights of men and women, – which AUCCRO has already stated previously.
Also discussed were issues of legal regulation in the defence sector, chaplaincy service and mobilisation. In particular, His Grace Bishop Varsonofiy of Borodyanka expressed concern in connection with the limitations placed on serving chaplains from the Ukrainian Orthodox Church (UOC) in the National Guard of Ukraine, as was recently declared by the Commander of this military organisation General Yu. Allerov. Bishop Varsonofiy reminded everyone that according to statistical data, at least a third of the personnel in the military structures are UOC faithful, and  the above-mentioned restrictions are therefore discriminatory. The Prime Minister promised to deal with this situation. AUCCRO Members appealed to the Prime Minister asking him to remove provisions in the legislation that impede the day-to-day activity of religious organisations. In particular, they requested that the Head of the Government cancel the need for compulsory re-registration of religious organisations, as a condition of maintaining their non-profit status.
To sum up, at the meeting it was agreed that a permanent dialogue between AUCCRO and the Government be maintained for the purpose of solving current issues in the sphere of Church-State relations.
Переглядів: 5