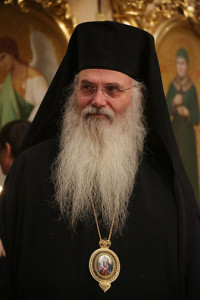 On Sunday, October 30, 2016, at 6:00 PM in the Gallery "Soborna" (Zaliznychne Highway 3, Metro station Lybidska, UOC Cathedral Education Centre), there will be a meeting with the famous and highly esteemed hierarch of the Greek Orthodox Church, who in the past was a scientist-astrophysicist, and today is Metropolitan of Mesogaia and Lavreotiki Nikolaos (Hatzinikolaou).
Within the framework of the meeting, His Eminence Metropolitan Nikolaos will give a lecture entitled "Pain, suffering, and death: a Christian view" and answer  questions from the audience.
His Eminence the Metropolitan of Mesogaia and Lavreotiki Nikolaos is one of the most illustrious personalities in the Orthodox world. A graduate of Harvard University and the Massachusetts Institute of Technology(MIT), where he was educated in Astrophysics, engineering mechanics, medicine and bioengineering, was in the past a scientific colleague at the National Aeronautics and Space Administration of the United States (NASA), then he became an Athonite monk, and today is a hierarch and President of the Bioethics Committee at the Holy Synod of the Greek Orthodox Church, the Despota is, at the same time, a theologian and scientist who possesses great spiritual and life experiences.
His book "Mount Athos: The Highest Place on Earth" is available in Russian and is dedicated to the Holy Mount Athos, a place that in an instant changed the life of the Harvard graduate forever and has opened up a new dimension of the universe for him, a place inaccessible for devices and theories. This book is a travel diary of His Eminence Metropolitan Nikolaos when he was on Mount Athos during the 70s in the XXth century to our days, in which the author shares with  readers his experiences, reflections and visions of the Holy Mountain, whilst at the same time acquainting them with esteemed Athonite podvizhniks such as the Venerable Paisios of the Holy Mountain and Gerasimos Mikragiannaniteis.
With the blessing of His Beatitude Metropolitan Onufriy of Kyiv and All Ukraine, the Department for External Church Relations (DECR) of the UOC invites all those interested to attend the lecture presented by the distinguished guest and join in the discussions with one of the most renowned personalities in the Orthodox world. After the lecture, there will be an opportunity to ask questions.
Entry is free of charge.
Переглядів: 58